The Golden Parkk, the hotel on Harrington Street, has flourished like never before since last year, thanks to the mix of national and local F&B brands choosing to be hosted inside the hotel. The Makaati restaurant-bar and lounge, owned by Bhupinder Gujral, is added to their bouquet of dining outlets. This 15,000 square foot place is spread over two floors with a massive 150 foot bar crossing. "After opening Wafira last year, the idea behind opening Makaati was to offer an all-day venue with amazing food and cocktails. We named this Makaati after the famous city in the Philippines, which I had been to many years ago and loved the ambiance, "said Bhupinder, MD and President of The Golden Parkk.
Makaati boasts of a 150-foot-long U-shaped bar, which means better service and no hassle for your drink.
Telegraph photo
There is a designated dance floor, a DJ console that will have music from DJ Kunal G which will mainly range from mainstream to electronics. "With Wafira playing Bolly music, we will ensure that the music is of a different genre here so that it does not overlap," said Md Nadeem Siddiqui, general manager of operations.
With dominant shades of green, gold and brown, the decor has a warm and rich tone. "We want to give back to the city something that will be remembered, loved by people over time. The Golden Parkk offers places for people of all kinds. Everyone will find something for them here, "added Gaganjeet Gujral, director of The Golden Parkk.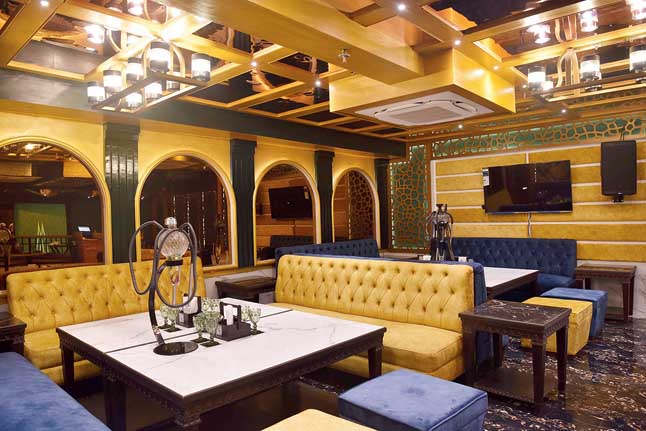 The mezzanine section is treated like a VIP area with plush sofas. There's also a separate bar serving one of the more premium liquor brands.
Telegraph photo
The menu developed by Executive Chef Nishant Prasad boasts of global cuisine and Makaati is home to an exclusive sushi bar which houses delicious options suited to the Indian palate.
What: Makaati – Restro Bar Lounge
Where: The Golden Parkk,
13, Harrington St, Kankaria Estates, across from Metro Plaza
Hours: 12:30 p.m. to 10:30 p.m.
(according to the government rules in force)
Meal for two: Rs 1,500 (without alcohol) and Rs 2,700 (with alcohol)
The telegraph checked out the new place in town and here's what we liked….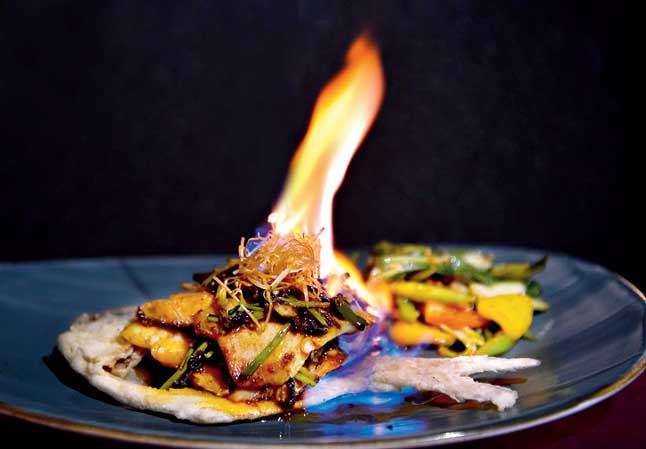 Whole Pomfret Ikan Bakar is drama on a plate. Indonesian grilled pomfret is served with a spicy peanut sauce. The fish is lit and then the sauce is poured over it.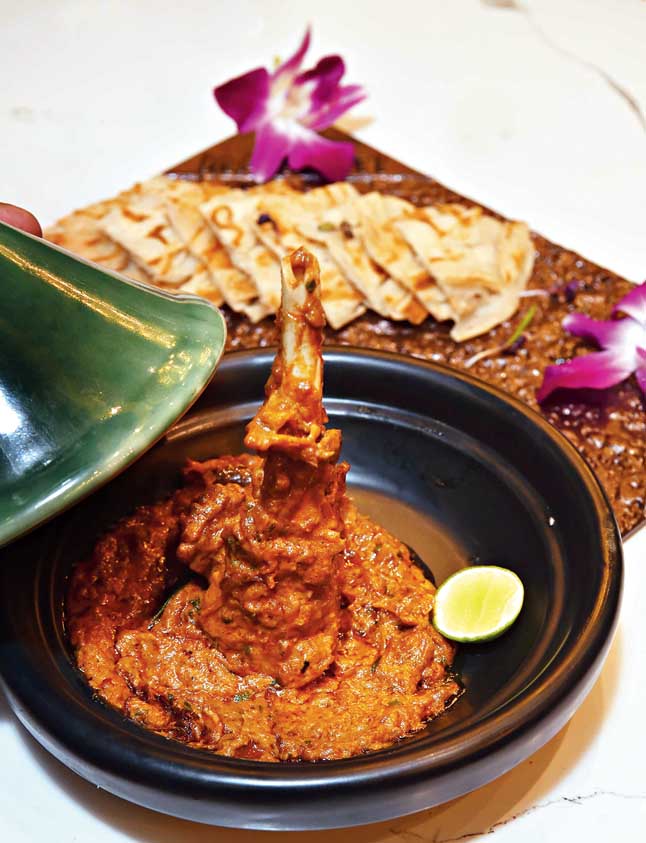 The lamb shank is not to be missed and certainly one of the most delicious dishes on the menu. Cooked for several hours, this one is dipped in a creamy and flavorful curry and served with hot Malabar paratha.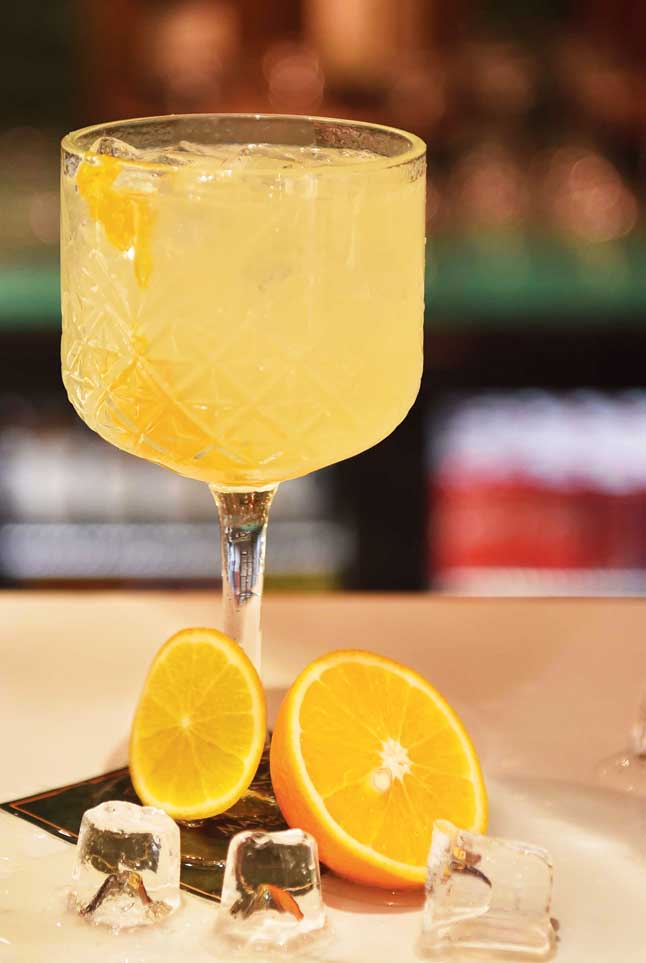 If you want to knock yourself out, try Makaati Incredible LIT topped with an extra dose of sparkling wine.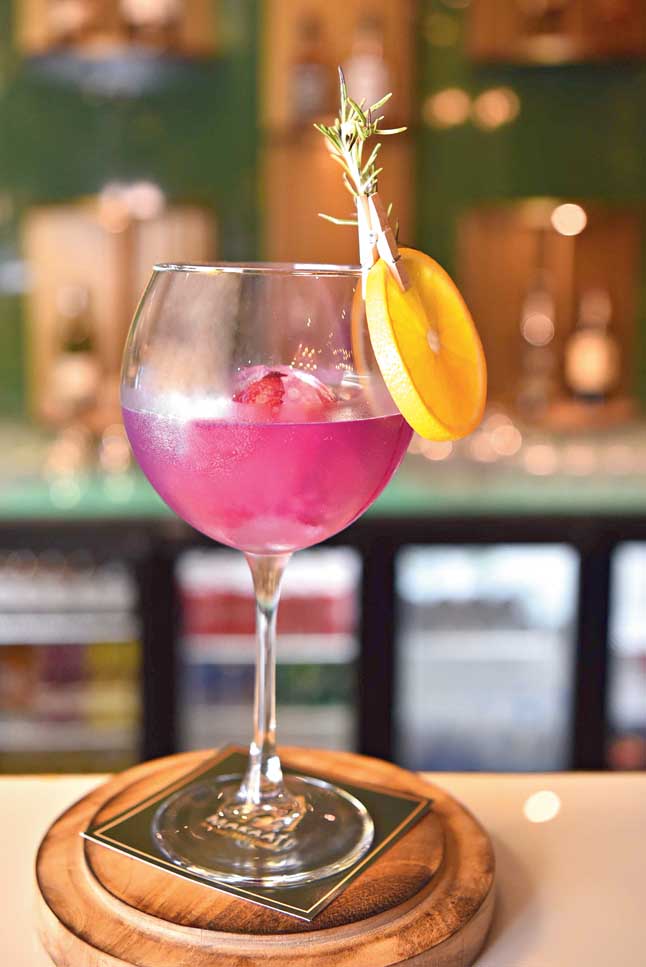 Royal Purple is a gin-based cocktail infused with herbs like rosemary, many flowers and topped with a scoop of rose ice cream. Aromatic and smooth, this one is our favorite!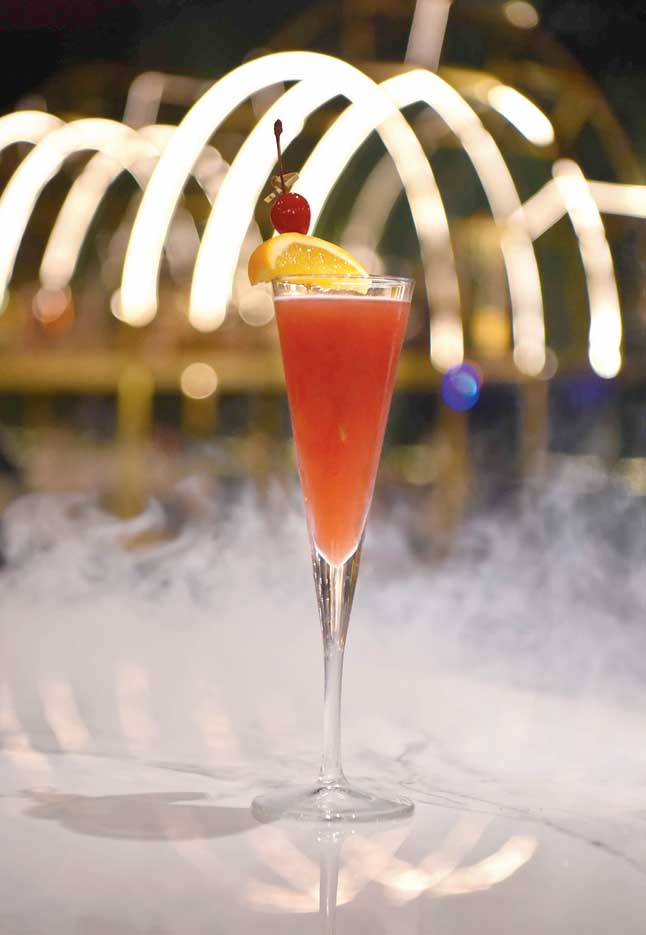 Makaati Jamun is a cocktail with a touch of desi. Besides vodka, it contains roasted cumin seeds, kokum, and orange juice. The result? Chatpata Cocktail.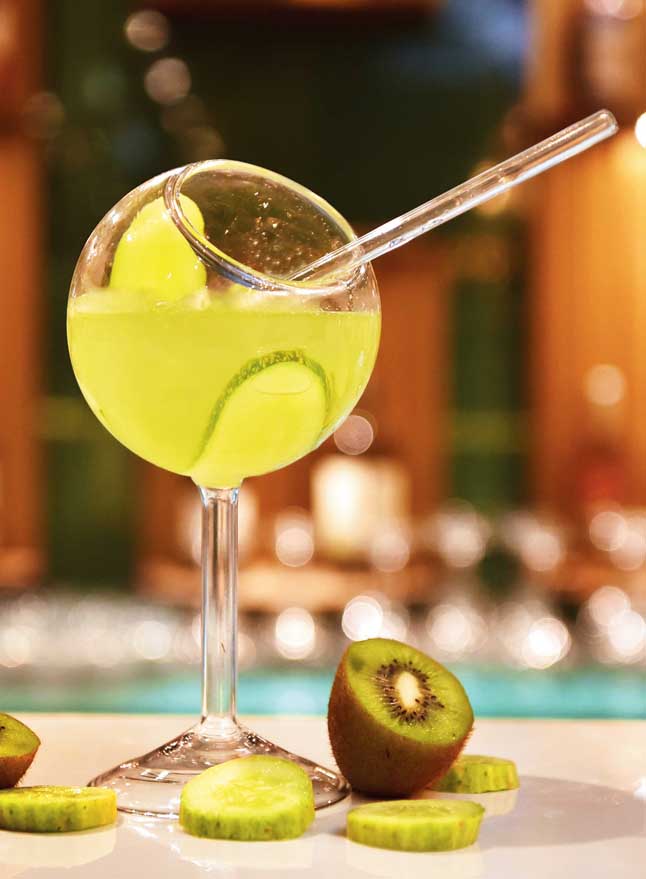 The Green City is a refreshing vodka-based drink with fresh kiwi juice, cucumber and topped with soda.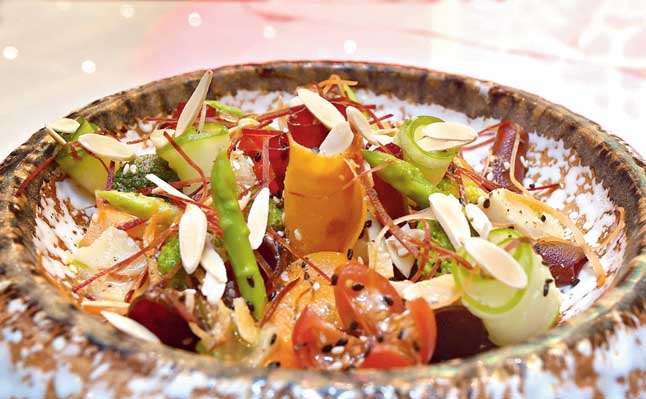 Say goodbye to boring salads with House Salad – a healthy dish that features crunchy curls of broccoli, asparagus, bamboo shoots that are mixed with homemade lemon mustard and topped with sesame seeds and toasted blanched almonds which give a nutty taste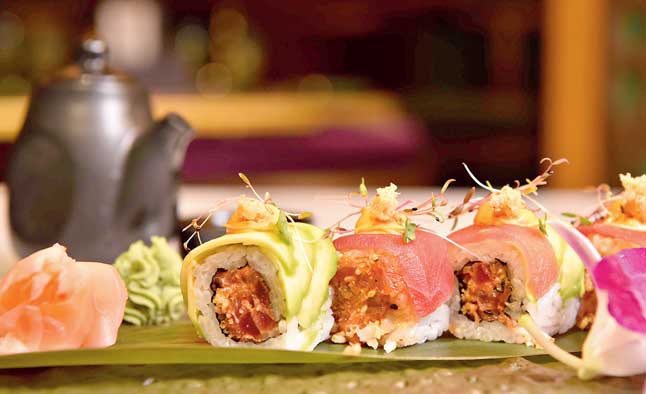 The tuna crisp is a must-have for any sushi lover. Little modified, this one has a tuna roll stuffed with chunks of tuna and tanuki wrapped in avocado and thin slices of tuna with tobanjan aioli on top.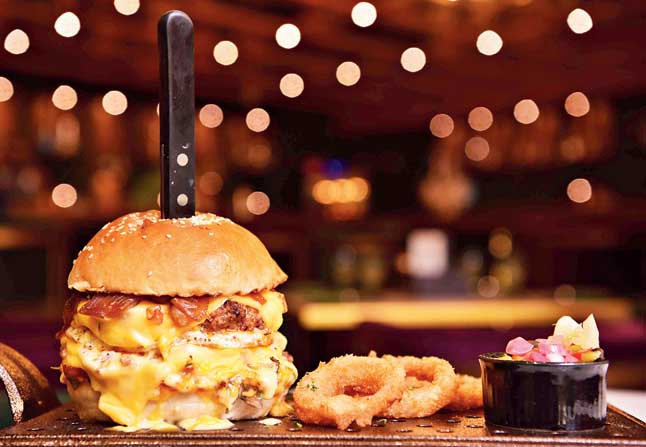 If you like burgers, there are five kinds on the menu. We tried the fatty and juicy lamb and feta burger which has layers of tomatoes, caramelized onions, lamb patty, arugula and feta tzatziki and topped with crumbled feta cheese. Delicate to eat but so good!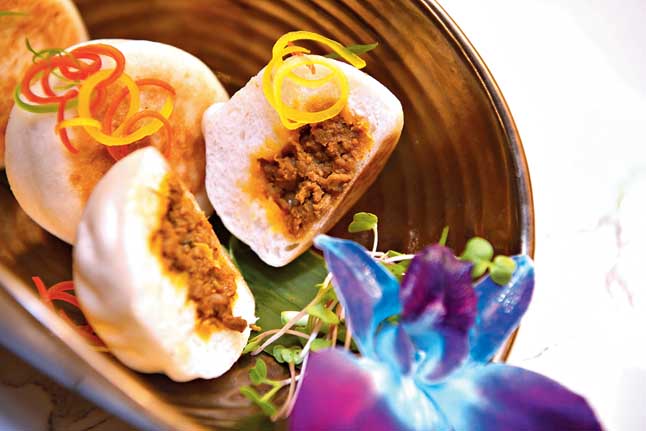 Kosha Mangsho Bao are freshly made, soft and chewy, stuffed with the famous Bengali kosha mangsho as a garnish.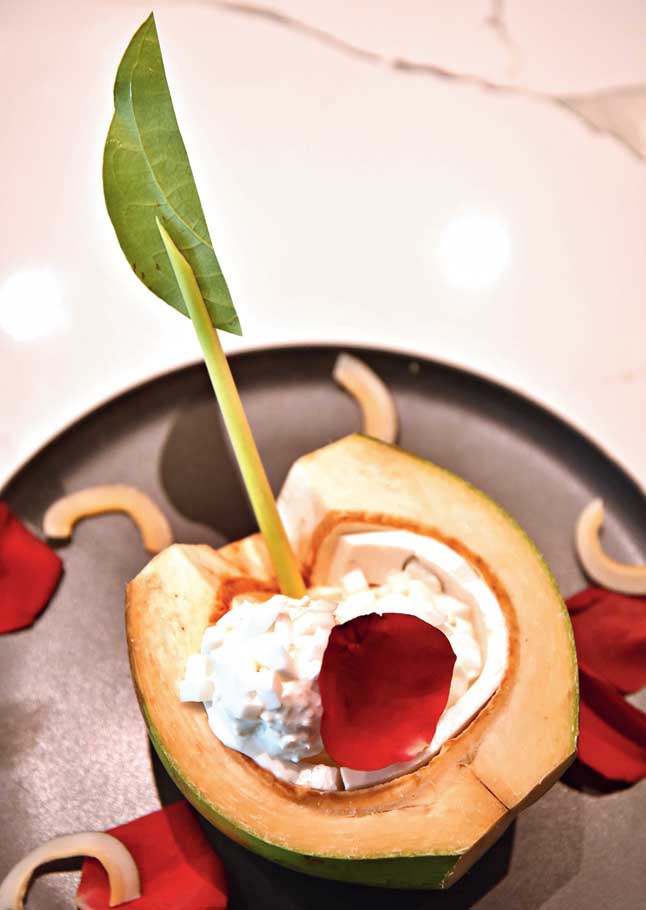 Finish your meal with tender coconut ice cream with coconut jelly, all homemade, served in a tender coconut shell and topped with rose petals.